Global Ocean Circulation
The primary motivation is to understand how the ocean works as a physical system.
Frequently, models are developed and used to interpret data that pose challenging scientific questions concerning the present ocean as well as the paleo ocean. One current research direction covers the energetics of the ocean circulation and water-mass formation analyzed in temperature and salinity coordinates. The role of geographical asymmetries and ocean-atmosphere feedbacks for the salinization of the Atlantic further exemplifies research on the thermohaline ocean circulation; a research direction which also has a regional emphasis on the northern North Atlantic, including the Nordic Seas and the Arctic Ocean. Oceanic internal waves and dense overflows, small-scale processes critical for vertical mixing, are examined from local dynamical as well as global oceanographic perspectives.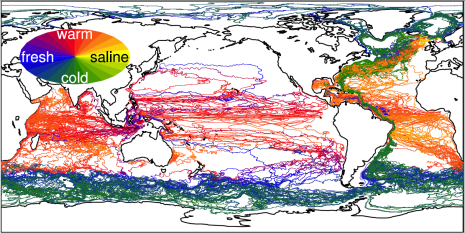 World Ocean Circulation. Figure by K. Döös
Last updated: July 10, 2013
Page editor: Jonas Mortin
Source: MISU

Researchers - Global Ocean Circulation