Courses and programs
Are you interested in working with the most important environmental issues of our time? Do you want to apply mathematics, physics, and chemistry to understand what influences the weather, oceans and the climate of the Earth?

Education levels and credits
Most of the higher education in Sweden is divided into three levels or cycles: Bachelor's (first cycle/undergraduate), Master's (second cycle), and PhD (third cycle) degrees. This is a result of the so called Bologna process. More than 40 European countries work together to make it easier to compare educations and degrees from different countries, which makes it easier for you as a student to study or work abroad.
The national system of 'credits' used in Sweden (''högskolepoäng or hp'') is equivalent to credits measured in ECTS. A full-time workload is 30 credits per semester and 60 credits per a normal 40-week academic year
The Bachelor's degree consist of three years (180 credits) of first cycle/undergraduate studies of basic level courses.
Adding another two years of second cycle studies of advanced level courses may result in a Master's degree (120 credits).
With a Master's degree you can apply for PhD studies (third cycle).
Sweden has adopted the Bologna system in line with other European countries. More information can be found at the Swedish educational system (su.se).
Our courses and programmes in Atmospheric Science, Oceanography, and Climate Physics
Apply for our Bachelor's or Master's programmes, free-standing courses or evening courses. The Master's programme is open for both Swedish and international students. The education at MISU gives you deep knowledge in atmospheric science, oceanography, and the climate system. Building on the broad scientific expertise at MISU, our courses and programmes provide opportunities to specialize in disciplines like dynamical meteorology, atmospheric physics and chemistry, environmental research and oceanography. Below is an overview of MISU courses during the spring and autumn semesters (in Swedish).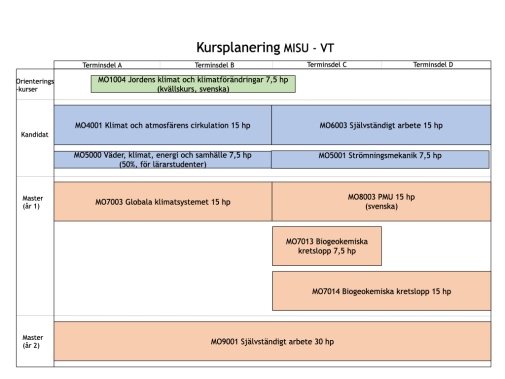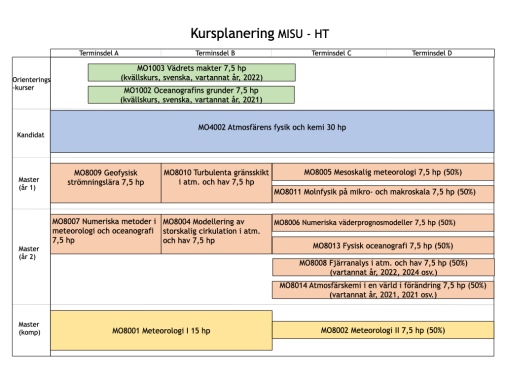 More or less all our courses are given only if there are a sufficient number of admitted students and therefore the course planning is preliminary.
Bachelor's programme
We offer a three-year Bachelor's programme in Atmospheric Science, Oceanography and Climate Physics. The first two years of the programme are only given in Swedish, while most of the third year courses in Atmospheric science are given in English.
Master's programme
Our two-year Master's programme in Atmospheric Science, Oceanography and Climate Physics offers advanced knowledge in atmospheric sciences, oceanography and the climate system as a whole. All courses within the programme are given in English, except from the course in Practical meteorology that is given in Swedish, and the programme and courses are open to both Swedish and international students.
Doctoral Studies
We employ a large number of PhD students at MISU, researching within a broad swath of Earth sciences, from dynamical meteorology to sea ice dynamics, from aerosol interaction to tidal flows.
Course for teachers
This course covers weather, climate and energy use in a sustainable society. With a basis in physical laws the course addresses questions that a future teacher may get from students.
Introductory courses, evenings
Are you interested in the atmosphere, oceans and climate but do not want to study our Bachelor's or Master's programme? Then apply for our introductory courses and get both knowledge about the topics and an insight into what role atmospheric science and oceanography have in society. All our three different introductory courses are given in Swedish.
Last updated: January 21, 2021
Source: MISU