MO7011 Traineeship 7.5hp
Take the oppurtunity to learn and see how meteorologists and others work. You will participate in the every day activities and work with a specific project, created by you together with your supervisors. The requirements are a BSc and at least 30 credits advanced level courses in atmospheric sciences, oceanography and climate. Apply to the course MO7011 Atmospheric sciences, oceanography and climate, traineeship 7.5 hp by sending an email to the study adviser at studievagledare@misu.su.se
Examples of working places, where students have had their traineeship:
SMHI Upplands Väsby, Flygväder
MetocC Enköping, Försvarets Vädertjänst
Falu kommun, Miljö- och samhällsbyggnadsförvaltningen – Hållbarhet och planering
MetocC Enköping, Försvarets Vädertjänst
SMHI Norrköping, Media
MeteoGroup Upplands Väsby
Länsstyrelsen i Västmanlands län, klimatfunktionen
Miljöförvaltningen i Stockholm, Luft och Buller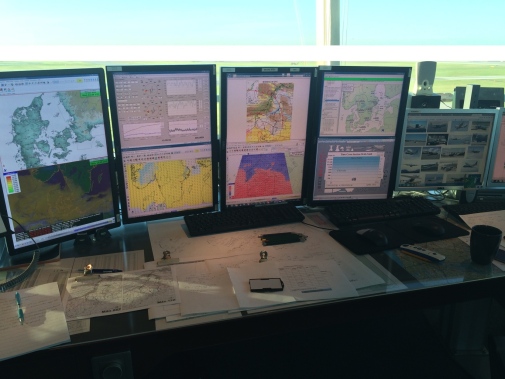 "Hela praktiken var mycket lärorik och spännande. Varje del var mycket intressant och givande. Jag bemöttes mycket bra under hela praktiken. Alla visade stort intresse och positiv inställning till en blivande meteorolog och förhoppningsvis kollega."
-Maria Hammarbäck, MetocC, HT 2015
Att göra en praktikkurs var självklart för mig, eftersom jag ville få en inblick i hur meteorologer jobbar på daglig basis. Det bästa med kursen vara att jag fick en förståelse för var yrket innebär, samt att jag fick möjligheten att göra egna prognoskartor. Min praktik hos METOCC gjorde mig säker på mitt yrkesval och intresserad av flygmeteorologi.
- Lisa Nyberg, masterstudent 2015-2016
More stories:
Flygmeteorolog i Upplands Väsby (Swedish)
Find out more at the course website.
Last updated: August 4, 2017
Source: MISU