World leading cloud microphysicist visits MISU
Three questions to Ulrike Lohmann, guest professor at MISU, the Department of Meteorology, during autumn 2017.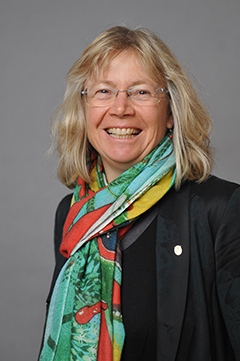 Ulrike Lohmann is world leading in the study of cloud microphysics. In her research, she combines detailed laboratory experiments with global numerical modelling. Since 2004, she has worked as a professor at ETH-Zurich – or the Swiss Federal Institute of Technology (Eidgenössische Technische Hochschule) – where she heads a group of 25 researchers.
For the autumn of 2017, she has taken a sabbatical and is here at MISU as a guest professor.
How come you choose MISU for your sabbatical?
– For my last sabbatical I went back to the Max Planck Institute for Meteorology in Hamburg, where I had completed my doctorate degree. This time I wanted to go to a place I hadn't been before, and that is different from ETH-Zurich, says Ulrike Lohmann.
– Stockholm was an obvious contender for this sabbatical since I have known and worked with Annica Ekman for more than a decade. I had previously been invited to MISU by Annica to stay for a full year, but felt that would be too long time away from my husband, Ulrike Lohmann explains.
– I have actually been at MISU before, once as a fresh PhD student, and later also for three weeks working with Caroline Leck using a parcel model in combination with observations from the Arctic Ocean Experiment - 96 expedition.
Who will you be working with when you are here?
– There are several groups in Stockholm that I might work with during this sabbatical, naturally Annica's group for the cloud physics research, but also Ilona Riipinen's group at ACES, for the aerosols, Ulrike Lohmann says.
What do you hope to get out of your time at MISU?
– The whole point of a sabbatical is to get a break from the regular work – so no teaching, no administration and the chance to do whatever you wish. So I definitely look forward to that, Ulrike Lohmann muses.
– During my last sabbatical I wrote a textbook, An Introduction to Clouds, ranging from cloud microphysics to the large-scale impacts of clouds on climate. While I am here, I may do some climate modelling, and work on a proposal for an EU-project with Annica Ekman on aerosols and clouds.
– I will be giving a seminar on September 5th, and that will cover the influence of aerosols and clouds on climate, says Ulrike Lohmann.
More information about the seminar
Edit 170915:
If you missed the seminar on Sept 5th, Ulrike Lohmann will also give a seminar on Dec 5th on the topic of orographic mixed-phase clouds.
Last updated: September 15, 2017
Source: MISU