What does a "docent" do?
Not fully a professor but more than a doctor. Frida Bender, researcher at the Department of Meteorology, and recently appointed docent explains what's hidden behind the title.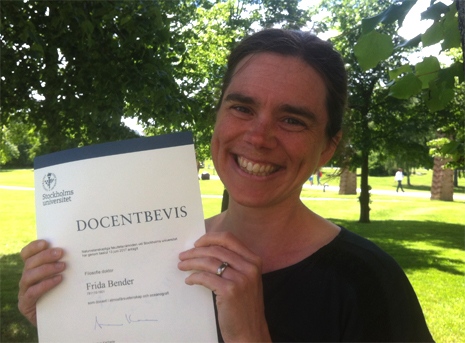 It's the day before midsummer and the sun shines through the trees down on the crisp diploma in the hands of Frida Bender, climate researcher in cloud physics.

What does it mean to be a docent?
- Most likely it won't change my everyday work that much, but the title will be helpful when applying for funding of new projects, Frida Bender muses. Plus, I get to sit on PhD defense committees, and I get a raise!
The Swedish title docent is appointed to a faculty member who has shown the ability to independently carry through research programs, has substantially more scientific research knowledge than a doctor, is well published and is a skillful educator.
Frida Bender finished her PhD studies at the Department of Meteorology at Stockholm University (MISU) in 2009 and has since then done a postdoc at Scripps Institution of Oceanography in San Diego, a sabbatical at the University of Washington in Seattle and two periods of parental leave. At MISU her main research focus is on the role of clouds in climate change. By comparing satellite data with model output, she evaluates climate models and how they can be improved.

How does one become a docent?
- Basically, by doing your job, Frida Bender laughs. I think it's a natural next step for most researchers once they've finished their PhD.
Normally it takes at least five years before you have the necessary experience and it's time to apply for the title docent. There you must demonstrate that you are an autonomous researcher.
- You can show this in various ways, Frida Bender explains. For me this included having published articles where I was the lead author, been invited to present at conferences, lead research projects and been granted research funds. You also need to have a certain amount of teaching hours.
The next step in the process is that a committee evaluates your work through the appointment of a special examiner that prepares a report concluding your merits. If you are approved, the final step is to hold a special docent lecture, where your talent as an educator is assessed and hopefully deemed adequate. Then the title is yours.

What will happen to the diploma know, will it get a golden frame and an honor spot?
- Probably not, Frida Bender smiles, though I definitely appreciate the title, I'm not much for the formalities. The laurel from my doctoral award ceremony ended up in a stew!
Last updated: June 27, 2017
Source: MISU