This summer's first displays of noctilucent clouds have now been photographed by MISU's camera
Since the summer of 2004 we run an automatic camera on the top floor of Arrhenius Laboratory in Stockholm. The camera takes pictures of noctilucent clouds, (NLC), the highest known clouds existing in the atmosphere.
The clouds form at around 83 km during the summer season at high latitudes and can be seen from the ground when illuminated by the sun from under the horizon. Read more about Noctilucent clouds on Wikipedia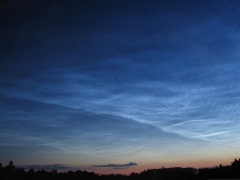 Image of an extensive NLC-display taken on July 16, 2005 at 23:40. Photo: Jacek Stegman
During the most intense summer season our camera takes 2 pictures per minute. The pictures are then used to create time lapse movies that may be found on MISUs webpage following this link:http://people.su.se/~stegm/nlcmovies.html.

These movies have become fairly well-known and have been used a number of times in popular science programs, most noticeably in the Emmy award winning BBC series "Earth: The Power of the Planet - Atmosphere". The episode 2 - Atmosphere is to be found on YouTube
The pictures are obviously also used for research; among other things they can be re-projected to a horizontal plane and analysed to obtain information on the dynamics of the region. This has so far been done with a (fairly good) assumption that the clouds are always at 83 km altitude since we only used to have a single camera.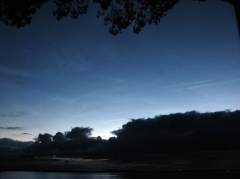 Image taken by the new camera 90km west of Stockholm on June 10, 2013 at 23:07. Photo Jacek Stegman
Starting, however, with this summer season we operate another camera situated some 90 km west of Stockholm and taking images of the same volume of the atmosphere. With two (or more) cameras, taking a kind of "stereoscopic" images of the clouds we should be able to retrieve the actual height and perhaps do more sophisticated kind of retrieval of the distribution of NLCs.
Last updated: June 11, 2013
Page editor: Åsa Öman
Source: MISU