Saharan dust detected over Stockholm during Midsommar
Mineral dust from northern Africa was transported all the way to Sweden and caused the blurry white sky that we could observe over Stockholm during Midsommar. In contrast to the small air molecules whose interference with sunlight causes the sky to be blue, mineral dust particles are much larger and scatter light equally efficient at all visible wavelength. This causes the sky to turn white during such events – despite a lack of clouds.
In case you wondered why the sky looked so white and blurry when you spent you day outdoors enjoying the nice weather during Midsommar (21 June 2013) there is a simple explanation. A strong high pressure system over Eastern Europe caused hot African air to move northward over the Mediterranean. This flow pattern brought extremely high temperatures to central Europe and benefited the transport of mineral dust from regions in northern Africa to Scandinavia. Generally, clouds and precipitation remove mineral dust from the atmosphere during transport. Their absence during high-pressure conditions allowed for the dust to make it all the way to Sweden.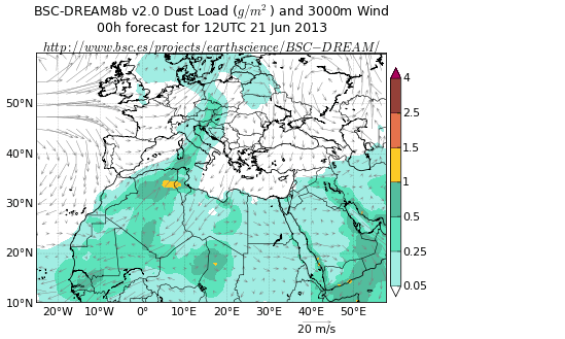 Figure 1: Forecast of the DREAM dust transport model of the Barcelona Supercomputing Center in Barcelona, Spain, for the early afternoon of 21 June 2013. A tongue of Saharan dust extends all the way from North Africa over central Europe to Scandinavia.

The dust layers were observed on 21 June 2013 at Stockholm with a lidar (light detecting and ranging) instrument that is capable of deriving height-resolved information on the particles in the atmosphere. Descending dust layers in the lowermost 3 km of the atmosphere were visible in the measurement starting at midnight. Clouds formed within the dust and together they created the blurry sky we saw during Midsommar. Layers with lower particle concentration were located higher up with a center at about 4 km height. A change in the atmospheric flow caused the event to end in the morning of the next day.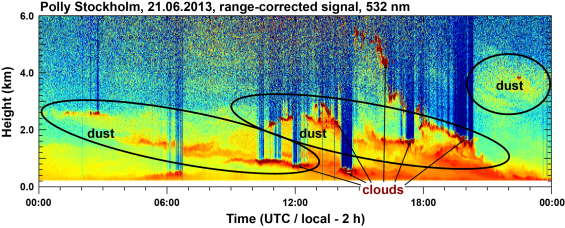 Figure 2: Observation of the particle load over Stockholm performed with lidar at Stockholm University during 21 June 2013. Cold and warm colors mark low and high particle load, respectively. Red areas are clouds. Mineral dust layers are marked by the black circles.

Such widespread dust events are rather rare since the particles are usually removed long before they could reach Scandinavia. However, in April 2011 there was another dust event extending to the Nordic countries that was even strong enough to be observed from space (see http://earthobservatory.nasa.gov/NaturalHazards/view.php?id=50123). This event has also been captured by the lidar system at Stockholm University. The instrument is run by the Institute for Applied Environmental Science (ITM) and the Department of Meteorology (MISU) at Stockholm University since August 2010. An overview of all measurements can be found at http://polly.tropos.de/lidar/lidarzeit.php?Ort=Stockholm&Anzeigejahr=2013&lambda=532&lidar=Polly_1st

Author: Peggy Achtert
Last updated: June 28, 2013
Page editor: Åsa Öman
Source: MISU