One of MISU's PhD students joins international research cruise to the Arctic
The International Arctic Research Center (IARC) of the University of Alaska Fairbanks, US, selected one of MISU's PhD students to participate in their summer school on "Climate Change in the Arctic Ocean" which is conducted jointly with an arctic expedition aboard the Russian research vessel Akademik Federov
The International Arctic Research Center (IARC) of the University of Alaska Fairbanks, US, selected one of MISU's PhD students to participate in their summer school on "Climate Change in the Arctic Ocean" which is conducted jointly with an arctic expedition aboard the Russian research vessel Akademik Federov (http://www.iarc.uaf.edu/education_outreach/summer/2013). The summer school, organized by IARC, Russia's Arctic and Antarctic Research Institute and A.M. Institute of Atmospheric Physics RAS and funded by National Science Foundation of the USA, Russian Academy of Sciences and the Russian Foundation for Basic Research gives 21 students from North America, Europe and Asia the possibility to get hands-on field experience and to discuss key issues in arctic climate during the 33-day long cruise (August 20 to September 22).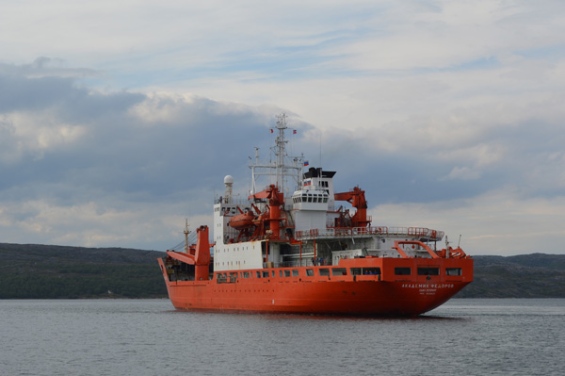 The Russian research vessel Akademik Federov
The expedition is part of the Nansen and Amundsen Basins Observational System (NABOS) and the ninth in a series of cruises since 2002. The aim is to observe and understand changes and variability in the Arctic Ocean, such as e.g. the variability of the circulation in different layers of the Ocean, transformation of water-masses along their pathways through the Arctic Ocean (for more information see http://nabos.iarc.uaf.edu/objectives.php). Potential changes in the Arctic Ocean (e.g. changes of sea-ice and/or temperature and stratification of the ocean) can not only have large impacts on the marine ecosystem but also on the climate from a local to global scale. The research vessel will depart in Kirkenes, Northern Norway, on August 21 follow a path through the Kara sea, Laptev Sea, East Siberian Sea before it goes back through the Arctic Basin to the Kara Sea and Kirkenes, where it arrives on September 19 (http://www.youtube.com/watch?v=wyNnZ1B4yAo&feature=player_embedded).


Last updated: August 23, 2013
Page editor: Jonas Mortin
Source: MISU