News from the Arctic expedition
MISU's expedition in the Arctic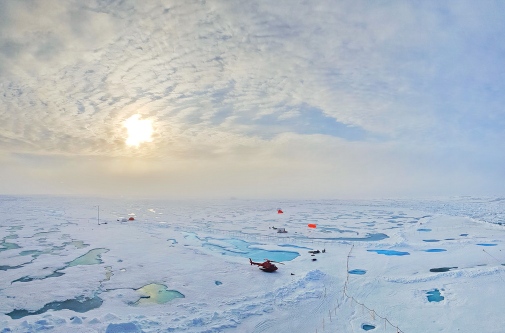 After some intensive work, our ice-drift camp is now up and running. It doesn't look like much in the vastness of the ice in the Arctic Ocean, and one need a nice weather day without fog, to see it all and those are rather infrequent. The camp consists of a tethered sounding site with two tethered balloons, a meteorological flux site with a 20-meter mast with instruments to measure fluxes between the ice and the atmosphere and an ROV site with a red little tent from which the small ROV (remotly piloted submarine) is launched through a hole in the ice.
One can also see our helicopter parked on the ice. On the other side of the ice floe there's an "open lead" site where a lot of measurements are taken relating to the physics, chemistry and biology of the ocean/atmosphere interface. The latter also has its own pet seal that keeps an eye on things and the other day they had walrus come visit; it did not like some of the stuff we put in the water.
Follow the expedition here.
Last updated: October 4, 2018
Source: MISU