News from the Arctic
MISU's expedition in the Arctic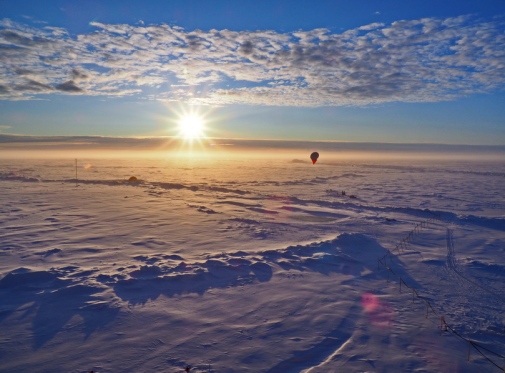 Friday 14 September:
Well, its been decided; we are out of here tonight! Forecasts of crummy weather for demobilization on Saturday have us leaving about a day earlier than planned and we are soon headed for home. These last days have been really eventful. We had a snow storm the day before yesterday when o one could work on the ice, This ended as a warm front passed and the wind veered almost 180°.

What we didn't know until next morning was that this had set the ice in motion and so when we woke up yesterday most of the remaining instruments at our "open lead" site had been crushed by ice, including an aerosol chamber and the meteorological flux station.

Then last night we had our third polar bear visit; a mother and a cub, that came back and visited again today in the middle of demobilization on the ice. The photo shows our ice camp as of this morning; beautiful isn't it! Right now it is just a bare ice floe and the weather has also turned for the worse. So, we might as well get out of here now.
Report from Michael Tjärnström.
Last updated: September 24, 2018
Source: MISU