Malva Lindborg – bridge between students and faculty
Three questions to Malva Lindborg, new study adviser and student administrator at MISU.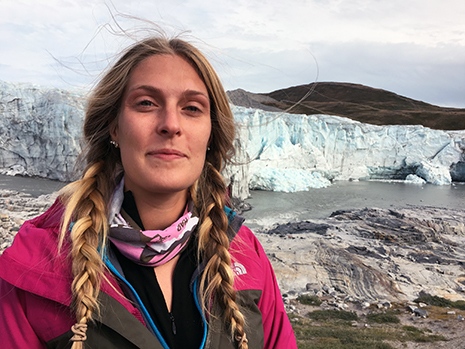 In what way are you a bridge between the students and MISU?
– I guide around the ins and outs of being a student. Keeping track of when and in what order things have to be done can be cumbersome, especially for international students so my job is to help clear that up, Malva Lindborg explains.
– I also help when students have problems in their education, be it administrative or as in losing motivation or falling behind. Most of this can be solved, so don't hesitate to contact me if you are worried - you are not alone.
What is your own background?
– The last two years I worked at the weather organisation Meteogroup, focusing on forecasts for the road services and for the energy sector regarding power supply. I really enjoyed my time there – the hours can be tough but the reward is that no day is the same, says Malva Lindborg.
– And I actually did the bachelor and master programmes here at MISU, so I personally know the courses, the teachers, the premises and what the specific challenges are. Furthermore, this helps in assessing whether the courses taken at other universities are equivalent and can be credited here, Malva Lindborg notes.
What are your main undertakings right now?
– The admissions! We've gone through the process of qualifying all the international students and are now eagerly awaiting the final acceptances from them and the national students. Then we can do the final adjustments for the autumn term, Malva Lindborg says.
– And remember, we are still open for late admission. At least until August 21st, so if you haven't already – apply!
To apply
Read about the courses and programmes at MISU here.
All applications are done via universityadmissions.se (english) or antagning.se (svenska).
Last updated: August 1, 2017
Source: MISU