Inauguration of R/V Electra af Askö
On October 5, representatives from the Department of Meteorology participated in the Inauguration of Stockholm University new research vessel, nicely organized by the Baltic Sea Centre. Jonas Nycander, head of the Department, gave a short presentation on how we can use the vessel for more oceanographic research in collaboration with other departments.
New vessel at Askö Laboratory
The Erling-Persson family foundation decided in 2013 to contribute with 30 mSEK to Stockholm University for building a new modern ice-breaking research vessel. In July 2014 a contract was signed with a shipbuilding yard. The vessel was delivered in June 2016.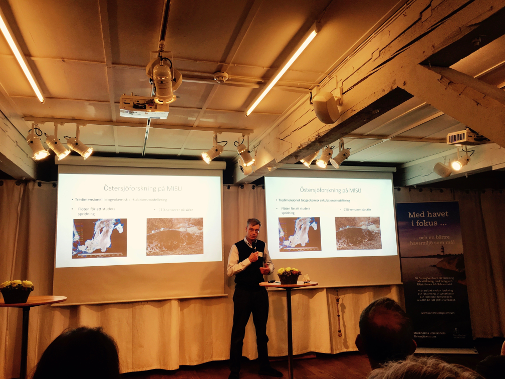 Jonas Nycander at his presentation. Photo: Kristofer Döös
Inauguration
Except for the guided tours onboard R/V Electra, reseachers from different departments gave their perspectives on how this research vessel can be used in the future.
Lectures (mostly held in Swedish)
R/V Electra: Ny teknik, nya samarbeten, ny forskning och nya möjligheter

Martin Jakobsson, Institutionen för Geologiska vetenskaper, Stockholms universitet

Vilken fysisk oceanografi kan vi utföra med nya fartyget?

Jonas Nycander, Meteorologiska institutionen, Stockholms universitet

Seafloor evidence for collapse of the southern Scandinavian Ice Sheet

Sarah Greenwood, Institutionen för Geologiska vetenskaper, Stockholms universitet

Havbottnarnas ekosystemfunktioner: från småskaliga experiment till storskalig förståelse

Alf Norkko, Tvärminne Zoologiska station, Helsingfors universitet
See the presentations on Baltic Sea Centre Youtube Channel
More information about R/V Electra can be found at Baltic Sea Centre.