Eric Sönnert, new study and career counsellor at MISU
Road service forecaster and infantryman takes the seat as MISU study counsellor, ready to facilitate the MISU students path to graduation.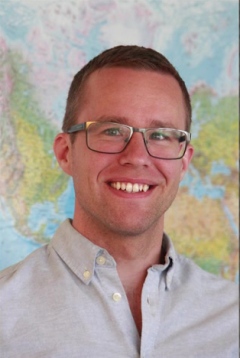 – I'm the person the students can turn to with any questions regarding their general studies, whether it is about the MISU programmes, the differences between courses or any administrative hickups, says Eric Sönnert, study counsellor at MISU since the end of October.
Meeting the MISU students
– So far I haven't met so many of the students. They have been deep in the exam period, and my main focus has been to get familiar with the tasks of a study counsellor. I look forward to meeting them, so drop by or send me an email if there is anything I can help with, encourages Eric.
Master Meteorologist from Uppsala
– I got my master degree in Meteorology in Uppsala, so even if I don't know every detail of the courses at MISU I do know what it entails to study to be a meteorologist. The long university tradition of Uppsala suited me, and Lund – my other top choice – had the master programme in Copenhagen, which felt a bit far away, Eric says.
– Comparing the master in Uppsala with the programme at MISU, there are more courses to choose between here at MISU. In my study days, Uppsala hardly had any courses in Oceanography, for example, Eric remarks.
Meeting clients as an educator at Meteogroup
– After graduation I started working at Meteogroup, as a weather forecaster with focus on winter road services. Step by step I got more involved in educating the clients of Meteogroup, which I really enjoyed. I liked meeting the people you've done forecasts for, discussing with them and explaining the scientific background of the results, Eric reflects.
Long-distance runner and infantryman
– In my spare time I do long-distance running, I did the Swedish "Klassiker" a few years ago. I like the way running lets me begin the exercise right away and I enjoy being out in the nature, says Eric.
– Though I didn't go the military way for my meteorology education, I have done military service as an infantryman and staff assistant in Kosovo. The knowledge I gained there that I value the most, is the ability to perform well under stressful and critical situations.
See you all at the next "Väderträff"!
– Feel free to contact me if there's anything you'd like to ask. For the Swedish speaking students, I hope to see you at the next Väderträff, which will take place sometime in December, says Eric.
Last updated: November 8, 2017
Source: MISU