Congratulations Evelien Dekker for 3rd prize in the Bolin Poster Competition
The research presented in the poster estimates the role of arctic sea ice in climate sensitivity.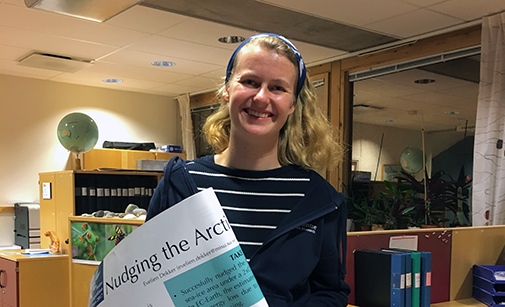 Several of the MISU PhD students participated in the Bolin Days Poster Competition, November 22-23, proudly presenting their research. At the end of the meeting the Bolin Days guests voted on the posters, giving MISU PhD student Evelien Dekker an honouring 3rd prize.
- The poster is about my master thesis research "Nudging the Arctic Ocean to quantify sea-ice feedbacks", says Evelien Dekker.
- In my model I started with a control setup of temperature and salinity, adding a perturbation of doubled carbon dioxide and then modelled a nudge procedure to determine what it would take to obtain a climate with present day Arctic sea ice state, Evelien Dekker explains.
Apart from the honour, there is also a reward of 5.000 SEK, but Evelien has not yet decided how to best spend the money.
Last updated: November 24, 2020
Source: MISU