Arctic summer sea ice extent controlled by atmospheric transport
The retreat of the summer sea ice in the Arctic region is one of the most dramatic signs of the ongoing climate change. Although the ice cover is steadily decreasing it also shows a large variability from year to year. In a new study, published in the scientific journal Nature Climate Change, researches at Stockholm University have examined the variability of the Arctic sea ice. They concluded that warm and humid winds from southerly latitudes towards the Arctic in spring are important for the amount of sea ice later in the summer.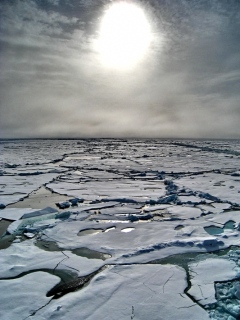 Summer arctic sea ice. Photo: Michael Tjernström
In years where the summer sea ice extent was much below normal, the cloud amount in spring was larger than usual. The clouds have a tendency to warm the surface, and hereby enhance the ice melt. The surface becomes darker due to the ice melt and appearance of melt ponds and open water. Over the summer more solar radiation is then absorbed by the ice and by the ice-free ocean water which further increases the ice melt.
"Each year the Arctic sea-ice extent reaches its minimum in September, but with a large year-to-year variability in the amount of sea ice that is left in the Arctic Basin after the summer melt. In our study we show that, especially in years with very small sea-ice concentration in September, the atmospheric conditions play an important role for the ice melt", says Marie Kapsch at the Department of Meteorology, Stockholm University. "Especially the transport of moisture into the Arctic during spring is playing a crucial role for the sea-ice melt. This is a step forward in understanding Arctic sea-ice variability."
Last updated: May 6, 2013
Source: MISU