2016 EGU Award for Young Scientists
Joseph A. Sedlar, postdoc at MISU, will receive the 2016 Outstanding Young Scientists Award in the Atmospheric Sciences Division. He will receive his prize at the EGU 2016 General Assembly, which will take place in Vienna on 17–22 April.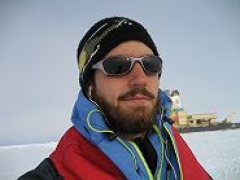 The EGU has named the 49 recipients of next year's Union Medals and Awards, Division Medals, and Division Outstanding Young Scientists Awards. These individuals, from both European and non-European countries, are honoured for their important contributions to the Earth, planetary and space sciences. The EGU has also announced the winners of the Outstanding Student Poster (OSP) Awards corresponding to the 2015 General Assembly.
The EGU Awards Committee received 155 applications for the 2016 awards, with 16% of them nominating female scientists. For more information about the awards above, including application and selection criteria and how to apply, please check the Awards & Medals page on the EGU website.
Congratulations to Joe Sedlar!