Find us
The department of meteorology (MISU) is located at Frescati. From the subway station (indicated by the blue T on the map) you walk straight ahead past Greens villa to get to Arrhenius laboratories where you will find us on the 6th floor in the C-building.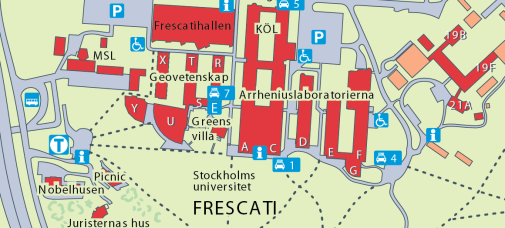 From Arlanda airport
Arlanda Express train - station: Stockholm Central Station
The trip takes about 20 minutes.
OR
Flygbussarna Airport Coaches - bus stop: City bus terminal
The trip takes about 45 minutes
From Stockholm Central Station/City bus terminal take the subway (station T-Centralen) towards Mörby Centrum (red line/line 14) and exit at the station Universitetet. The trip takes about 10 minutes.
From City and the southern suburbs
Subway - station: Universitetet
Line 14 (red line) towards Mörby Centrum
The trip takes about 10 minutes.
Busses (via Odenplan) - bus stop: Universitetet
50 From Reimersholme towards Stora Lappkärrsberget (-Stora Skuggan)
From the northern suburbs
Roslagsbana - station: Universitetet
Take one of the three lines towards Stockholms Östra. At the station, take the stairs at the back of the platform and follow the path over the railway bridge that leads to the campus area
Commuter train (pendeltåg) - station: Ulriksdal
Commuter train line 36 towards Södertälje (-Östertälje). At Ulriksdals station, switch to bus 540 to Universitetet.
More information about timetables and public transportation is available on SL:s website
Map and guide for campus
Map is avaliable from link below. Further information about the University campus is avaliable here.
Last updated: November 20, 2020
Source: MISU