IMI seminar - Adam Scaife - The Met. Office, UK
Skilful Prediction of European Winter Climate and a Signal to Noise Paradox
Name
Prof Adam Scaife
The Met. Office, UK
Title
Skilful Prediction of European Winter Climate and a Signal to Noise Paradox
Abstract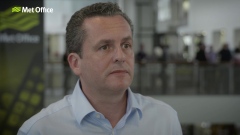 Seasonal prediction experiments show that there is significant skill in predicting the winter North Atlantic Oscillation at lead times of months and even longer, and this can be used to provide skilful forecasts of year to year variations in European winter climate. We show evidence of high skill from current prediction systems and investigate the mechanisms that drive predictable signals in the NAO.
Despite the commonly stated errors in numerical modelling of convection, highly skilful long range predictions of tropical rainfall are possible and this is a key factor which drives prediction of the winter NAO via a mechanism involving poleward propagating Rossby waves. Despite this success, there is an unexplained error in the amplitude of the forecast signal, which is demonstrably too weak by a factor of two or more, as the correlation between individual forecast ensemble members is lower than the correlation with observations.
We show that this 'signal to noise paradox' may point to an important and widespread error, as it appears to be present in other climate models. Nevertheless, we also show examples of the wide range of forecast services that can be provided for Europe from current seasonal prediction systems.
Time and Place
Tuesday February 13th 2018, 11.15
Rossbysalen C609, Arrhenius Laboratory, 6th floor
(This event has taken place.)
Welcome!
Last updated: January 30, 2018
Source: MISU