Fabien Roquet
08-164232 | roquet@misu.su.se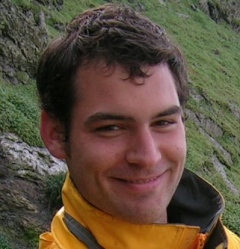 Fabien Roquet
Postdoc
Contact information
Phone: +46-(0)8-16 4232
Email: roquet@misu.su.se / fabien.roquet@gmail.com
Room: C626
Website: http://www.misu.su.se/~froqu
Research interests
Southern Ocean circulation
Ocean modelling
Elephant Seal platforms
Ocean energetics and thermodynamics
Structure of the Antarctic Circumpolar Current
Research projects
Doctoral degree
I started my PhD in physical oceanography in September 2006 at Universite Pierre et Marie Curie (Paris, France). The title was:Circulation around the Kerguelen Plateau: from observations to modelling, supervised by Prof. Y.-H. Park (MNHN) and Prof. G. Madec (LOCEAN), and obtained in October 2009 with honors.
My PhD work mainly consisted in:
the archiving, calibration, validation of hydrographic data obtained with instrumented elephant seals. I worked especially on data obtained from deployments at the Kerguelen Islands.
the analysis of data collected by elephant seals and during KEOPS and TRACK cruises to build an updated picture of the circulation over and around the Kerguelen Plateau
model-data comparisons in the Southern Indian Ocean to assess the realism of an eddy-permitting simulation (DRAKKAR-G70 configuration based on NEMO)
the set-up of an eddy-permitting configuration of the Southern Indian Ocean
the analysis of model pathways, transport and transformations of water-masses crossing the Kerguelen Plateau using the lagrangian diagnostic tool ARIANE
First Post-doctoral period at MIT (Dec 2009 - Feb 2012)
I started a post-doctoral position with Prof. Carl Wunsch (MIT, USA) in December 2009. I was funded through the Estimating the Circulation and Climate of the Ocean (ECCO) consortium which is directed at making the best possible estimates of ocean circulation, using inverse methods to adjust a global configuration of the MITgcm model to a wide variety of available observations. I contributed to ECCO by analyzing ocean estimates in the framework of my work on the description of energy pathways induced by Ekman pumping.
I also contributed to ECCO through my work on the "Southern Elephant Seals as Oceanographic Samplers" project, by providing and preparing hydrographic data obtained by instrumented elephant seals for use in the ECCO model. I published a technical paper on the calibration of CTD loggers used on seals. I started a comprehensive effort to produce a global validated dataset containing all the available hydrographic data sampled in the Southern Ocean since 2004, and to add them to the hydrographic database assimilated in the ECCO model. So far, I quality-controlled and calibrated more than 180.000 profiles. I am currently assessing the contribution of seal data to the global observing system, using the framework of ECCO state estimates.
Second Post-doctoral period at the Stockholm University (March 2012 - present)
I am currently doing a second post-doct with Pr. Jonas Nycander (Stockholm University, Sweden), started in March 2012. I am developing a diagnostic of energy based on the concept of Dynamical Potential Energy, in collaboration with J. Nycander, C. Wunsch and G. Madec (LOCEAN, Paris). I am implementing the new standard TEOS-10 equation of state in the NEMO model. In parallel, I continue the work on the seal hydrographic database that I started while at MIT.
Teaching
Master course on Dynamic Meteorology II
Publications
Website
Link to thesis
Also see CV below
CV

CV: Fabien Roquet (89 Kb)
Last updated: June 16, 2016
Page editor: Jonas Mortin
Source: MISU