MISU Centralverkstad (central workshop)
Do you need help in constructing measuring equipment that can sustain flying at very high altitudes or do you just have a socket that needs repainting? At MISU Centralverkstad the research engineers develop apparatus for research and education as well as fix broken things.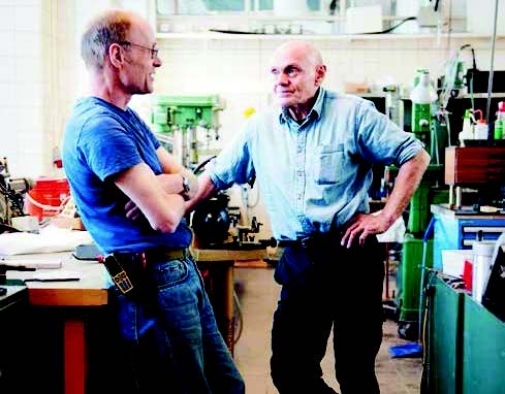 The central workshop provides technical expertise in manufacturing, construction and repair for staff and students at MISU. Here tailored instruments, necessary for research, can be constructed at lower cost than market prices. Time permitting, Centralverkstaden also provides services at a per-hour-cost to other departments and organisations.
The 425 square metres premises has 20 tonnes of machinery, including a wood shop and a metal shop, and not least - two research engineers and a mecanicus emeritus. They are skilled in electronics and computer controlled milling, welding and lathe turning.
On the basis of ideas and requests, schematics are constructed in collaboration with the research projects to make certain of the best solutions for the job at hand.
Examples of commissions
Integrated air vent for airplane type Dornier228
Oceanic sediment traps for collecting biological activity and pollutions
Renovation of 250 office chairs
Lid collectors for rain sampling in Bhutan, Himalaya
Directions
The central workshop is situated approximately 250 metres from MISU, at a five minute walk east. Starting from MISU, take the mid stairwell to level 3, then take the walkway to house D. Continue straight on through houses E and F. Take the long catwalk to Frescati Backe, passing a row of red brick houses, and down the stairs, through the door and up the stairs, keep straight until the end of the corridor. The MISU Centralverkstad is behind the white metal door, just ring the bell.
As the workshop can be noisy, sometimes neither phone nor doorbell can be heard. The safest route is to email centralverkstaden@misu.su.se before visiting.
Last updated: August 29, 2017
Source: MISU